Here's what a couple of 2 Sisters Handcrafted's customers have to say:
"Extraordinary, extraterrestial customer service. I think this is the only shop - that provides all - fast and polite communication, quality products and impressive very human after-sale treatment. Thank you, Colleen, for all you did, your personal qualities make a big difference. Will definitely come back and order again from you."
"Amazing crafmanship!!!! Great communication and speedy postage (all the way to Australia)."
"Just beautiful and beautifully done! Unique and very personal. High quality, excellent seller communication and it came sooner than I'd expected!"
---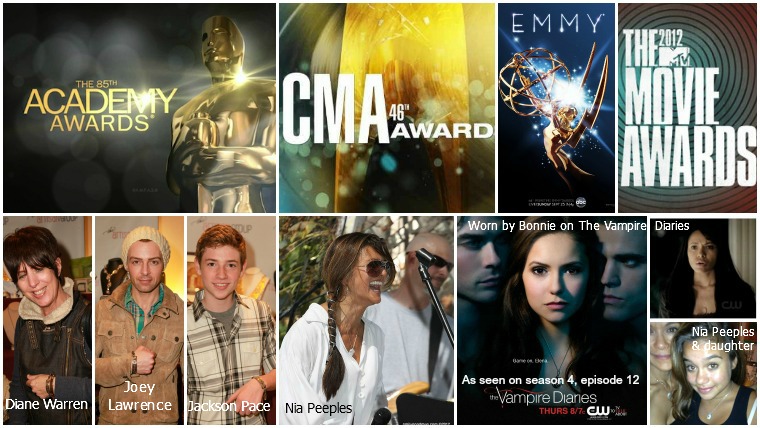 2 Sisters Handcrafted has created custom jewelry pieces for the 2014 celebrity Earth Day celebration, the 2013 Academy Awards, the 2012 GBK Primetime Emmy Awards and the 2012 MTV Movie Awards GBK celebrity gifting suit. They have gifted celebrities at the official gift lounge for the 46th Annual Country Music Award and wardrobe stylists for the hit TV shows The Vampire Diaries, The Originals, Scandal, The Voice, 2 Broke Girls and most recently for Modern Family and Girlfriends Guide To Divorce.
2 Sisters jewelry has been worn by Bonnie (Kat Graham) on episode 412 of The Vampire Diaries and episode 1, season 2 or Girlfriends Guide to Divorce.
Other Celebrities who have received or custom ordered 2 Sisters Handcrafted jewelry include Selena Gomez, Sarah Jessica Parker, Khloe Kardashian, Jenny McCarthy, Christina Hendricks, Nia Peeples and daughter, Amanda Seyfried, Stephanie Drapeau and Canadian Olympian Silken Laumann.
Find our secret spinning message bracelet featured on Brené Brown's website and Rising Strong book tour.
Get a little behind the scenes look at the making of one of our sterling silver hand stamped necklaces.